Seventh Ousseimi Foundation Prize for Tolerance awarded to Rencontres Orient Occident du Château Mercier
The award ceremony for the seventh Prize for Tolerance was held at Château Mercier, Sierre (VS) Switzerland, on 7 October 2022, the opening day of the 10th edition of the Rencontres, in the presence notably of H.E. Ms Rola Noureddine, Ambassador of Lebanon to Switzerland, Mr Pierre-André Berthod, president of the city of Sierre, and Mr Mathias Reynard, state counsellor of the canton of Valais. The Ousseimi Foundation was represented by its president, daughter of the founder, Ms Maria Ousseimi, its vice-president, Mr Olivier Vodoz, and two of its members, Mr Jacques Moreillon and Mr Harold Jupp.
The Board of the Ousseimi Foundation cited the following reasons in support of its decision:
"Between June 2012 and October 2020, the Rencontres Orient Occident du Château Mercier of Sierre in the canton of Valais, Switzerland, made an extraordinarily proactive and varied contribution to a world of greater tolerance, of real convivence across the whole range of artistic expression of the great civilisations and the dialogue of cultures, religions and philosophies.
These "rencontres" (encounters) have not only put into practice the concept of Living Together in Peace but have further demonstrated that this is possible within the shared and coordinated practice of all forms of music, graphic arts, films, conference-debates and even long walks in nature.
Through their diversity and annual occurrence, the encounters have given rise to a "spirit of Château Mercier" and created a model for convivence deserving of recognition and encouragement, thereby justifying the award to this organisation of the seventh Ousseimi Foundation Prize for Tolerance."
A variety of themes were addressed by the speakers, amongst which "the values of solidarity, sharing of riches and respect for human rights" (Mr Pierre-André Antille, executive director of the Château Mercier Foundation), the importance of delivering messages (Mr Berthod) and "exchange, dialogue and outreach can alone give birth to tolerance" (Mr Reynard).
Mr Moreillon recalled the highlights of the life of Khaled Ousseimi, who died in 2021, emphasising above all his "discretion and his extraordinary generosity". He proceeded to summarise the activities of the Foundation since its creation in 1991, finishing with some anecdotes of his meetings, in his capacity as ICRC delegate general for Africa, with Nelson Mandela during his imprisonment on Robben Island. He concluded his address with this phrase of Mandela: "Never hate. Hate hurts only him who hates."
Following the speeches a statuette, symbol of the Prize for Tolerance, together with the official certificate and a cheque for CHF 50,000, was presented by Ms Ousseimi to Mr Antille, accompanied by Ms Marie-Laure Sturm, coordinator of the Rencontres Orient Occident.
The formalities closed with a concert given by musicians from the International Menuhin Music Academy.
The full ceremony can be viewed via a YouTube link LES ROO EN DIRECT on the website of Château Mercier: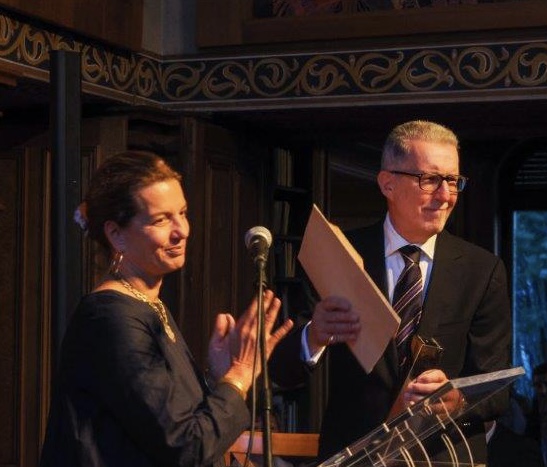 Photo Jean Margelisch
  Maria Ousseimi, René-Pierre Antille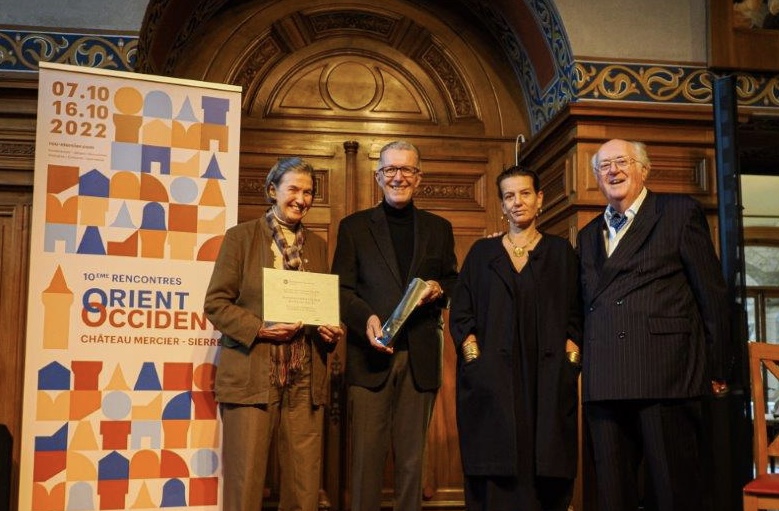 Photo Jean Margelisch
Marie-Laure Sturm, René-Pierre Antille, Maria Ousseimi, Jacques Moreillon